As you embark on your journey in the art of Brazilian Jiu-Jitsu, the first thing you are going to need is a decent BJJ Gi. Not only does a good Gi help with developing good technique, it also helps putting you in the mind set, or in the "zone" as some would say, allowing you focus more on the training.  
There are overwhelming variety of Brazilian Jiu-Jitsu Gi's on the market, as a beginner trying to choose which Gi to buy could be a daunting challenge.
Color, size, material, durability and of course price are a few things you must consider before buying your first Gi.
So what are the best BJJ Gi's for a beginner? In this article I will go through the top 7 Brazilian Jiu-Jitsu Gi's for beginners. Based on comfort, durability and value.
In a Hurry? Here're Our Top Picks!
Sanabul
Ultralight BJJ Gi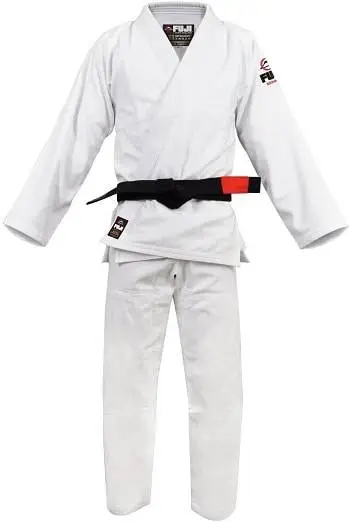 Fuji
All Around BJJ Gi
Flow Kimonos
Air BJJ Gi
Best BJJ Gi's for Beginners Reviews
The good people at Sanabul believe that the basic function of a Gi is to keep you covered while you train, so why make Gis so expensive? Sanabul Gis are probably the most affordable Gi brand in the market.
The reinforced fabric of this Gi is highly durable, very light and is designed to withstand tear even in the most physically tasking sessions. That's great value for money if you ask me.
As far as size is concerned, Sanabul Gi's don't follow the templates of other Gi makers, they have their own sizing for Gis. So you may be an A3 size in another brand's Gi, but not in a Sanabul's Gi. Sizing down is recommended.
The Gi is made with pre-shrunk fabric, there's little or no shrinkage expected from the Sanabul Essentials v2. However, some people do complain the pants do shrink after wash.
It is treated with antimicrobial and anti-odor agents which keep it drier and cleaner during hard long training sessions.
Despite being a lightweight Gi, it's made with surprisingly high quality fabric. Especially since it's one of the cheapest brands you'll ever find. Excellent value for your money.
At the time of writing this review, there're over 4,000 reviews on Amazon, with the majority being positive – click here to read them.
Be sure to check out our list of Best BJJ Rash Guards, for more great items like this.
PROS
Pre-shrunk Material
Lightweight, breathable and durable
Free belt of any color while supplies last
Tremendous value for money
CONS
Sizing can get confusing
Pants shrink after wash
The FUJI All Around BJJ Gi is an award winning uniform which also happens to be the best selling BJJ Gi in the world. Being IBJJF certified, FUJI's premium cotton blend Gi's are acknowledged for their durability, comfort and superior fitting.
It would interest you to know that most Jiu-Jitsu academies in the world use this product, it is a tested and trusted Gi, ranked highest among many practitioners around the world.
The FUJI All Around BJJ Gi has a thick collar and a multi-layer reinforcement across all stress points. It's extremely comfortable, durable and perfectly designed for fit.
At the time of writing this review, there're over 1,000 reviews on Amazon, with the majority being positive – click here to read them.
Also check out our list of Best Boxing Gloves for Sparring for more great items like this.
PROS
Sturdy and durable
Soft to the touch and comfortable material
Stiff and thick collar harder for your opponent to grab
Great value for money
CONS
Some sizing issues
Shrinks a good bit after wash
This BJJ Gi is very lightweight and breathable. It offers a 100% combed cotton pearl weave jacket and the pants' moisture absorbance feature keeps you drier throughout your training sessions.
Breathability is one of this Gi's best features, it's suitable for very hot training environments, allowing you train for much longer periods.
Specifications include 350 gsm PEARL weave (100% combed cotton) & 10 oz ripstop pants. It comes in 3 colors and 9 different sizes so it will definitely suit your body type. The pants come with 4 extra wide belt loops and a high density foam draw-string that keeps your pants tight on.
An awesome feature about this Gi worth noting is the foam cord in the pants which serves better than the regular drawstring.
At the time of writing this review, there're over 370 reviews on Amazon, with the majority being positive – click here to read them.
Be sure to check out our list of Best Boxing Gloves for Heavy Bag Training, for more great items like this.
PROS
Pre-shrunk material
Lightweight and breathable
9 sizes to find your perfect fit
Foam filled drawcord offering a more secure pants fit
comes in a free drawstring bag
CONS
Material is a little stiff, not as soft as advertised
Pants might fit too tight for stocky build, especially in the trunk
The Hayabusa Light Weight Jiu-Jitsu Gi features hand-crafted designs made from premium materials. The light weight nature of this Gi allows for easy and free movement which makes it ideal for all sorts of training and competitions you may partake in.
The Gi jacket is made of 420 gsm PEARL weave cotton and the pants are made with 8oz ripstop cotton-polyester blend with reinforced knees and stress areas.
This IBJJF certified Gi comes in 7 colors and has patches and embroidery on its lapels, shoulders, back, chest and legs.
At the time of writing this review, there're over 500 reviews on Amazon, with the majority being positive – click here to read them.
Our handy guide to the Best Wrestling Shoes, features more great items like this!
PROS
Lightweight and soft to touch material
Minimal shrinkage
Comfortable fit especially in the armpit area
Air dries quickly
CONS
Elastic drawstring needs improvement
Pants fit a little shorter
The stylish Elite Sports Ultra-Light BJJ Gi is made from pre-shrunk fabric that is both lightweight and durable. Which means as long as you wash the Gi in cold water and hang dry, there's no need to worry about it shrinking.
The lightweight and durable Pearl Weave Gi allows you train longer and harder even in a hot climate, without being drenched in your own sweat.
It's worth mentioning that the anti-odor treatment on these Gi's really makes a difference when it comes to keeping the Gi fresh away from the bad smell of sweat.
The standout feature of this Gi is its comfortable yet extremely stylish fit. You can be assured that you'll get compliments in the gym wearing this Gi.
At the time of writing this review, there're over 2,900 reviews on Amazon, with the majority being positive – click here to read them.
Make sure to check out our guide to the Best Judo Gi for beginners, featuring more great items like this.
PROS
Pre-shrunk material
Lightweight and durable
Comfortable and stylish
Free white belt
Excellent value
CONS
Pants fit on the large side
Material can be a little stiff for some
A0 size pants come with elastic waistband and single drawstring
This medium weight (450gsm) Gold Weave Gi is the perfect combination of the tough durable double weave with the lightness of single weave.
The use of premium quality Eva rubber in the collar means the lapels are stiff, strong and durable, able to withstand the strongest pulls and grabs. Another feature people rave about is the rash guard neck liner, which adds to the comfort.
Pants are made with 10oz Ripstop Weave, which in my opinion is the optimal material for pants. This keeps the pants lightweight, breathable while offering excellent durability at the same time.
The owners at Gold BJJ are so confident of the quality of their Gi, that they are offering Gold BJJ 1 year Guarantee. If the Gi fails within a year of purchase, they will either replace or refund the money no questions asked.
At the time of writing this review, there're over 120 reviews on Amazon, with the majority being positive – click here to read them.
PROS
Durable without being too heavy
Clean minimalistic style
Soft and comfortable material
Built in rashguard neck liner
Gold BJJ 1 year guarantee
This pre-shrunk 100% cotton Pearl Weave Gi is the only one on the list that comes completely blank, unbranded. This means plenty of space for you to put your own patches, or keeping it patch free if you like the clean, minimalist look.
The jacket comes with rubberized collar and reinforced seams, made with surprisingly sturdy material for the price. Although it can be a little stiff brand new, may need some time to "break in". Overall, it's a great option for people starting out, or if you are looking for a second Gi as back up.
At the time of writing this review, there're over 1,100 reviews on Amazon, with the majority being positive – click here to read them.
PROS
Blank Gi with no ads
Clean and minimalistic look
Fully customizable with your own patches
Free white belt
Amazing value
CONS
Some issues with sizing
Can get hot after a long session or in hot climate
Fit not as stylish as some other brands
What to Consider Before Buying a BJJ Gi?
Color
The traditional BJJ Gi color is white. They do also come in several different colors like black, royal blue, navy, grey and even pink. However, I recommend sticking with white, royal blue or black if you intend on competing in the future as they are the only three colors permitted by IBJJF. 
Material
BJJ Gi's are typically made with 100% cotton. Manufactures often use descriptions like "Single", "Double", "Gold", "Pearl", and "Ripstop" weave followed by a number like "420gsm". The gsm stands for Grams per Square Meter. This refers to the density of the fabric the Gi is made of. It typically ranges from "300gsm to over "1000gsm"
Let's expand a little more into different types of weaves.
Single Weave Gi is made of thin fabric, which makes it light weight and the least expensive. It's a good choice if you are a beginner and low on budget. If you train in a hot climate, the single weave is a great choice due to the lighter fabric. However, this also means it's less durable and wear out faster.
Double Weave as the name suggests is double fabric of the single weave. Gi's made with double weave tend to last much longer due to thicker and denser fabric, which also make them more expensive. Another thing to note is that these Gi's can get harder to grip for your opponents due to the thick material, an advantage if you intend to compete.
Gold Weave can be simply described as a "Hybrid" between single weave and double weave. These Gi's tend to have the lightweight of the single weave combined with durability of the double weave. A very popular choice among BJJ players.
Pearl Weave was developed to sit somewhere between single weave and gold weave. These Gi's are lightweight as a single weave, but more durable and lasts longer. Being the lightest Gi allowed in competition, priced similar to single weave with better durability, it is no surprise that the pearl weave is now one of the most popular competition Gi.
Durability
As mentioned above, the double weave offers the best durability typically. However, a case can be made for gold weave and pearl weave, both offer excellent durability while being lightweight and comfortable. I generally steer people away from the single weave, although the cheapest option, but also the least durable, which doesn't represent the best value for money in my opinion.
Comfort and Fit
The comfort and fit of a Gi is as important as the quality of a Gi.
It boils downs to personal preference whether you like a slimmer more tailored fit, or baggier and looser fit. Some people like shorter sleeve and legs, and some prefer longer.
In my opinion a Gi should fit snug, loose enough to allow you ease of movement, but slim enough that it's not too easy for your opponent to grab hold of you.
If you intend on competing, make sure the Gi meets IBJJF's requirements as shown in below graph.
Price
As a beginner in BJJ, it's not recommended you spend a fortune on Gis. Go for something that balances quality with a fair price and let your experiences with your first Gi guide you when buying other Gis in the future. Anywhere between $60 to $130 will get you a quality Gi, all Gi's mentioned in this post are within this price range.
FAQs
Which Is The Best BJJ Gi Brand for a beginner?
The brands included in this guide: FUJI, Hayabusa, Flow Kimonos, Gold, Sanabul, Elite and Your Jiu Jitsu Gear are all great Gi brands for a beginner that balance quality, style, durability and affordability.
What Size BJJ Gi Should I Get?
Well it depends on your height and weight. BJJ Gi's typically come in sizes from A0 to A6 for adults, the bigger the number the bigger the size.
It's worth noting that different brands use these sizes differently, from the measurements to fitting. Always check the sizing chart specific to the brand of Gi before your purchase.
How Many Gis Do I Need?
One good quality Gi is fine as a beginner. However, if you love the sport and intend on training for the long term whether it be for competing or just for just fitness and self-defense, I suggest getting a second Gi, which will make your life easier, as you will always have a fresh Gi ready in case you forget to wash and dry another. They will also last longer as you will rotate between the two.
As A First Timer How Much Should I Spend On A BJJ Gi?
I advise you keep your spending around $100. As a beginner, you wouldn't want to invest heavily into something that you may lose interest in the near future. Think about it, you spend about $200 getting a new Gi, you embark on your first training session and you find the art of BJJ tasking and exhausting and are reluctant to continue, that's $200 wasted!
Final Verdict
To conclude, all 7 Gi's listed here in this guide carry the qualities a BJJ beginner would need, based on comfort, durability and value.
It's worth mentioning that they are all IBJJF approved, which means you're covered if you want to compete further down the line in your training.
If you are on a tight budget, looking to spend as little as possible but still want a quality Gi, I'd personally go with the Sanabul. If you have a little extra to spend, I'd go with Flow kimonos if you prefer lightweight, and the Fuji All around if you prefer a sturdier Gi.
In fact:
You can't go wrong with any of the Gi's included in this guide. They all offer exceptional value for money whilst not compromising on quality, style, comfort and durability.